As you may recall we liked the  Ex-Pro® ACK-DC110  when we reviewed it recently, but had one minor issue with it (well more to do with the Canon G7x technically). Although the power supply worked well, we could not fully close the battery compartnment door with the mains power supply installed. Some manufacurers do have cable access for the battery compartment doors, but our G7x (a Mark III) did not.
However, whilst trying to fix a different problem (how to add a microphone to the G7x) we also managed to find a solution to this issue. The Uurig L Extention Bracket for this camera allows you to add a coldshoe to the side of the camera for attaching accessories (such as mics and lights). However what it also does is move the 1/4 inch mounting thread on the bottom of the camera slightly to one side, away for the battery compartment door. This has now allowed us to fully tighten our tripod mount to the camera whilst allowing the battery door to be fully open, eliminating any strain on it.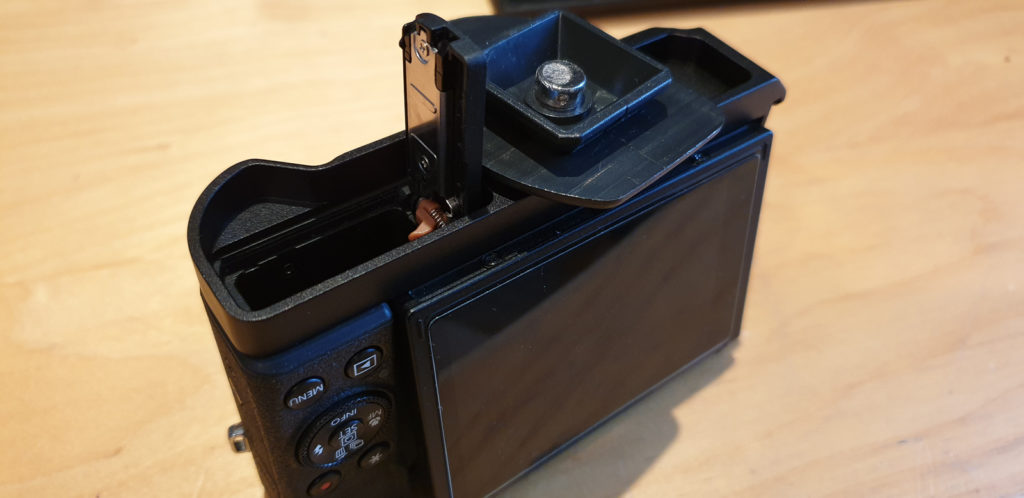 So, we have a more functional G7x, and a better tripod mounting postion. Thanks Uurig!
Notes – LINKS: Links in this article may point to Amazon and other retail websites where a small commission is paid to us (at no cost to you) when you purchase an item – this allows us to keep the website advert-free. We do not endorse any of these websites in particular and you are free to do your own research as to where to purchase goods online; don't forget to support your local economy by purchasing from a local retail shop. SPONSORSHIP: We do not accept goods or services for free in exchange for a review – all the products and services reviewed by GGO are paid for out of our own finances to ensure better objectivity. OPINIONS: All the opinions, thoughts and ideas on this website are our own, based on our own experience, and we do not intend them to be advice or recommendations for individual visitors to the site. Please research all your purchases fully.