COVID-19 has made it difficult to spend as much time outdoors as many of us would like, so here's an article to tide you over until your next (mini)adventure: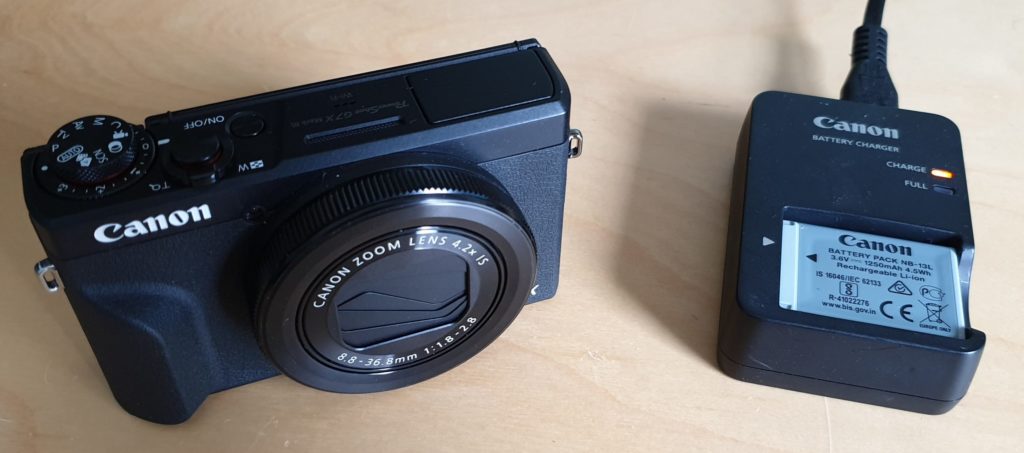 Canon usefully released a driver for Windows™ and macOS™ that allows some of their compact, mirrorless and digital SLR's to be used as a webcam via USB (Canon EOS Webcam Utility Beta). Other manufacturers followed suit and have released similar software for their hardware. The driving force appears by a shortage of retail webcams as the COVID-19 pandemic continues to force people to work from home.
This was great news to me and I promptly downloaded the utility and was able to use a G7X Mark III and an older EOS 60D with the software in various video streaming software including Zoom, Microsoft Teams and OBS. Interestingly the 60D was not on the list of supported hardware but did work fully.
However there are 2 downsides to using your camera as a webcam: No audio over USB and battery life.
No audio over USB however is not a big deal. Many people have a mobile phone or gaming headset that will allow decent quality audio for the purposes of video-conferencing. In fact the audio quality is likely to be much better than the on-camera microphone anyway. If you feel you need to boost your audio quality there are a variety of microphones on the market that will sound great without "breaking the bank".
Limited battery life on the other hand is a major problem. My G7X for example could manage about 1¼ hours of video before the battery gave out (not bad considering the small physical size of the battery). This is fine for the occasional short meetings, but a prolonged day of video conferencing will mean multiple batteries in addition to the inconvenience of having to leave the meeting to swap out a battery and then rejoining several minutes later: impractical and unprofessional.
Can't you power your G7X via the USB-C port anyway though, you may be asking? Yes, BUT you will already be using the USB-C port for your data transfer to the webcam utility. I tried using a USB-C hub as a way of both providing power and allowing charging but this did not work – at least with the hub I had available (which does work to power Samsung DeX devices and allow simultaneous data transfer)
Both Canon and 3rd party hardware manufacturers have already anticipated the problem of extended recording times and you can buy power adaptors that allow your camera to be run directly from the mains. They work by replacing the battery with a "coupler" which fits in the battery compartment, with a trailing wire which attaches to a mains to direct current transformer. Canon's own device for the G7X retails at £89.99 in the UK. The version for my 60D would be £119.99. Quite pricey and outside the budget of many people I would argue. Canon's USB-C power adaptor for the G7X Mark III is also way overpriced.
Fortunately I discovered that more reasonably priced alternatives are available. Amazon lists the Ex-Pro® branded ACK-DC110 as being compatible with my G7X and, at less than £20, is better than a quarter of the price of the official Canon version. Judging by the product photos there seems to a single source of these which are then branded by each reseller. To be honest I was a little concerned about the potential quality of this item – after all I was going to be using it to power a £700 camera. Two days after ordering I was about to find out one way or the other…
Actually I was pleasantly surprised. The packaging was a decent quality branded box with accompanying UK plug. The main components are the transformer with captive DC lead, UK style plug and the NB-13L compatible coupler. A small single-sheet printed instruction leaflet was the only other item in the box. This was a little misleading as it shows two different products – one on each side. In addition the instruction about the coupler were, in fact, incorrect – or at least designed for a different product from the one supplied. However it all goes together quite logically and shouldn't be an issue for most people.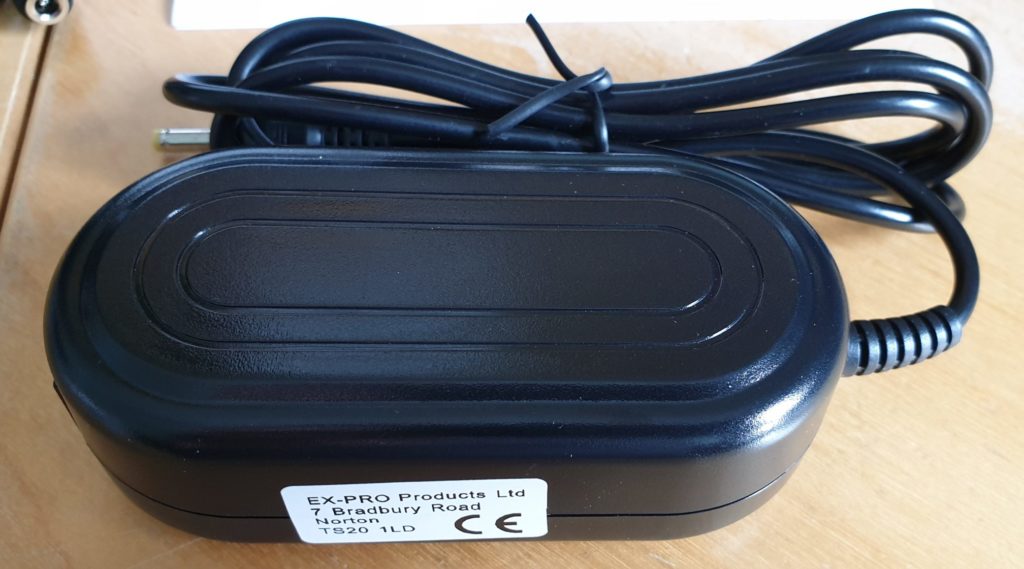 The length of the UK plug lead is approximately 190cm, the DC lead on the transformer approx. 140cm and the fly-lead on the coupler is 35cm – plenty of length to reach from a power outlet to the camera for most small offices/homes. The quality of the individual components seems good and the product is CE , FCC and RoHS compliant according to the labels and moulding of the coupler.

The coupler attaches via a barrel type plug and socket and then the coupler pushes directly into the battery compartment in the camera. At first glance the coupler didn't look exactly the same size as the original Canon battery but stacking them on top of each other showed otherwise, and indeed the coupler fits in the body of the camera just fine…well almost.
The only real issue for this set-up is a problem with the camera itself, and not the power supply. This presumably applies to the Canon branded product also. The issue is that the battery compartment door does not have an outlet for the DC cable. I've seen some DSLRs with with facility (and the instructions for this product also show it), however the G7X does not permit this. In itself this was not an issue until I mounted the camera on a tripod (which you are very likely to want to do in this scenario). Because the tripod mount thread is close to the battery compartment door, as you tighten the camera onto the thread, the door is forced shut but with a cable sticking out, this is not completely possible. The only option is to not fully tighten the tripod thread, or use a tripod with a very small flange that will not come into contact with the door.
In terms of function though, this product does what it says. I've used it now for over a week without issue. It allows me to use the camera on mains power without having to worry about the battery going flat half way though a video call. Very useful. I would definitely consider buying this product again and am seriously thinking about getting one for my D60 DSLR.
This isn't going to help power my camera on a multi-day hiking trip, but for home and office work this is an excellent solution to a real problem.
Pro's
Good price
Cheaper than Canon own product
Works as advertised
Quality good
Con's
Battery door won't shut (not a problem of the product per se)
Notes – LINKS: Links in this article may point to Amazon and other retail websites where a small commission is paid to us (at no cost to you) when you purchase an item – this allows us to keep the website advert-free. We do not endorse any of these websites in particular and you are free to do your own research as to where to purchase goods online; don't forget to support your local economy by purchasing from a local retail shop. SPONSORSHIP: We do not accept goods or services for free in exchange for a review – all the products and services reviewed by GGO are paid for out of our own finances to ensure better objectivity. OPINIONS: All the opinions, thoughts and ideas on this website are our own, based on our own experience, and we do not intend them to be advice or recommendations for individual visitors to the site. Please research all your purchases fully.